By: Back9Rally
Disclaimer: This post in no way endorses drinking all 9 of these beers on the back 9 lol…. but seriously PLEASE drink responsibly (designated driver/Uber/Lyft/taxi/call your spouses, significant others and/or parents… c'mon people no excuses!!!)
You just don't have it today.  You kinda feel like you want go home and see your wife and kids, and sell your clubs on eBay….  Or, launch them from a cannon into a volcano and check yourself into rehab.  But just then… you realize that there is always the chance to salvage your round… Time for a Back 9 Rally!!!
A little liquid refreshment on the golf course can (sometimes) put you into the zone for the back 9. So, we have taken on the task of sampling tens of beers from the Mitten in order to provide you with the best 9 Michigan beers after the turn. Without further a due, here is the list (debate & discussion welcome)!
1. All Day IPA, Founders:  This is an easy choice.  All day is refreshing on a hot Michigan day, with bitter hops and just the right amount of citrus notes… Plus the 4% ABV will give you just the right amount of swing oil to cure that wicked slice.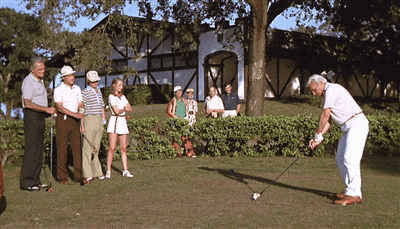 2. Two Hearted Ale, Bell's:   Kalamazoo's most famous export behind Derek Jeter (RE2PECT)…. This popuar IPA is hoppy, malty, and enough ABVs at 7% to plant a constant buzzing sound in your head to clear all those pesky swing thoughts.  Warning: must follow one of these with a light beer (Coors Latte for example… hat tip @the_buttsy), or you may find yourself BIPSIC (Ball in Pocket Sitting in Cart).
3. Oberon, Bell's: I know, I know, Oberon is overrated… But I still f'n like it okay???  Why, because it's the color and scent of a sunny goddamn afternoon…  And I need that if I'm playing like shit.  Enough said. Oberon comes in at 5.8% ABVs.
4. Stroh's Lager: Wait what?  Yes, that's right folks Stroh's Lager is back.  Since Budweiser sold out to InBev (based in Belgium), we are left with Stroh's to carry the lager flag (made in Detroit).  Stroh's comes in at 4.6% ABVs and at least allows you to look cool on the golf course (all the hipsters drink it… PBR is cool again too…) while drinking your liquid Leadbetter.
5. Smackintosh, Tandem Ciders:  Obviously not beer.  However, some days this sweet cider can be a refuge from the malt and hops, especially if you were "over served" the night before.  Basically it's like drinking apple juice.  Maybe the cart girl will be impressed by your complete lack of shame.  4.5% ABVs.
6. Huma Lupa Licious, Shorts Brewing Company:  This super bitter IPA gets extra points for its name.  It's just fun to say Huma Lupa Licious, damnit. The blend of 5 hops and 7.7% ABVs will wake you up from your vegetative state and have you on a birdie streak in no time… or streaking and screaming at birdies depending on your tolerance.
7. Norm's Raggedy Ass IPA, Griffin Claw:  Norm makes some pretty good shit, especially this award-winning IPA.  Bonus:  The can looks like an energy drink, and at 7.2% ABVs, it will give you enough beer muscles to go ahead and go for that par 5 in in two.
8. Cheboygan Blood Orange Honey, Cheboygan Brewing Co:  This twist on an American Style wheat beer will be instrumental in stopping that bogey train and getting into a Back9Rally zone.  Just one though… The second tastes like you are biting into an unpeeled orange.
9.YOUR FAVORITE MICHIGAN BEER ON THE GOLF COURSE: A Michigan Brewery.  We tried selecting beers that are likely available for sale at a golf course in Michigan, so feel free to suggest a "side pocket beer" of your choosing.
Cheers, and Hit it Hard.
Signed,
Back9Rally